H&M's latest collab with Marni is due in stores next week, but some pieces can already be bought online on H&M's US website.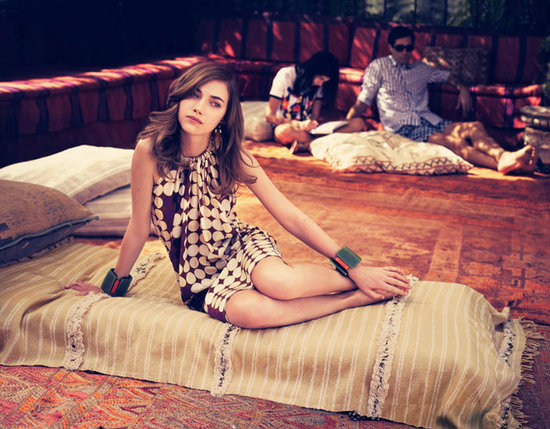 I'm not crazy about the dresses in this collection. I love the prints, but the shapes are too billowy and large. They're a bit on the muu muu side (see above), and could benefit from more tailoring and darts to fit the female figure. But some of the accessories are to die for! Consuelo Castiglioni, creative executive of Marni, really outdid herself with creating timeless pieces to add some flair to a summer outfit.
This cuff ($29.95) looks like an antique ivory bracelet. I love the rhinestoned detail, and I think it would be a great summer accessory.
This colourblocked tote ($39.95) combines two hot hues: citron and mint.
These rope sandals ($59.95) are rustic and so cool. I can easily see these with a safari-inspired look or a preppy nautical striped shirt with white capris.
This acrylic and ribbon necklace ($29.95) is a classic piece. I'm a sucker for statement necklaces, and this one is a steal! It also comes in a really cool see-through black acrylic too.
This acrylic bracelet is a work of art. The symmetrical graphic lines are both architectural and sleek. This goes with everything, especially a classic white linen blouse.
http://www.youtube.com/watch?v=9wK-CgE8mdI&feature=player_embedded
While I won't be waiting in line at the crack of dawn for this release, I'm hoping that I'll be able to snag a bangle or two from the online. Living in the Netherlands has its advantages… and online shopping is one of them! Watch the video above, directed by Sofia Coppolla to see more of the collection.
Images courtesy of H&M. All prices found on the U.S. website.